At the age of 3, my mom taught me to use a needle and thread to sew cloth. Those first dozen or more attempts to create something probably ended in complete failure, but that wasn't the point of teaching me. It was to keep her curious child busy doing "grown up work" while she was sewing clothing, quilts, and curtains. It also taught me to be careful with sharp objects. I don't loose them or leave them laying around.
Everything I learned in those first years have come in handy over the decades of crafting. First, with cross stitch that I fell in love with when I was 10. Then with embroidery that I learned to do at 16 after my crafty mom decided to create a crazy quilt from all her scrap fabric. We never got to create that quilt as she decided that she didn't like how it looked, but I did learn a lot about different embroidery stitches that helped me later when I created my snowman quilt and was introduced to embroidering on tea towels by hubby's grandma.
Since then, I've embroidered on all types of things, including a pillow cases, a night cap that I used to keep my fly away hairs from tickling hubby while we slept (sadly it was a fail that I gave way to someone that really enjoyed it), and even clothing. My latest embroidered obsession has been embroidered jewelry.
Sometime around Spring of this year I decided to buy a kit of four necklaces to see how it was done and try it out before investing in the jewelry supplies to create more. I finished them in four days but had to wait another month before I got some better glue to fix the pieces onto the pendants.
I found that I loved doing them so much that I want to try my had at other designs. But rather than buy kits, which are mostly flowers, I want to create my own designs. So I bought these Bezel Pendant Trays with glass cabochon from Amazon.
I liked that they were round, different colored, and simple in design. I didn't want something that would take away from the designs I wanted to put in them.
For my first design, I created constellation in the night sky with a forest below it. It is based on the zodiac constellations that I've seen others do, but with a scenic element I haven't seen yet. It didn't work out quite how I had imaged. I'm already contemplating how I could redo it to see if it would work better because this is something I would really like to add to my shop.
I'll also be trying another scenic design of a mountain and forest to see if the lighter colors will make a difference. But I'm coming to think that what I want to do is just too small and detailed for the 1 inch size. If that is the case, then I'll work on my other ideas and purchase some larger pendants to use with the scenic embroidered jewelry.
I'll let you guys know how they turned out when they are done.
As for my graphic design work….
This week I've been working through my long list of graphic designs I want to create for my shop. These have included: small and large seed packets (finished & waiting for photos), a garden journal (still working on), 2021 Crafter's Planner: I'd Rather Be Crafting (finished & copy ordered & soon to be in my shop), hard cover version of my Craft Journal for Creators & Designers (finished & copy ordered), and the 2021 Writer's Planner: I'd Rather Be Writing (finished & in my shop now).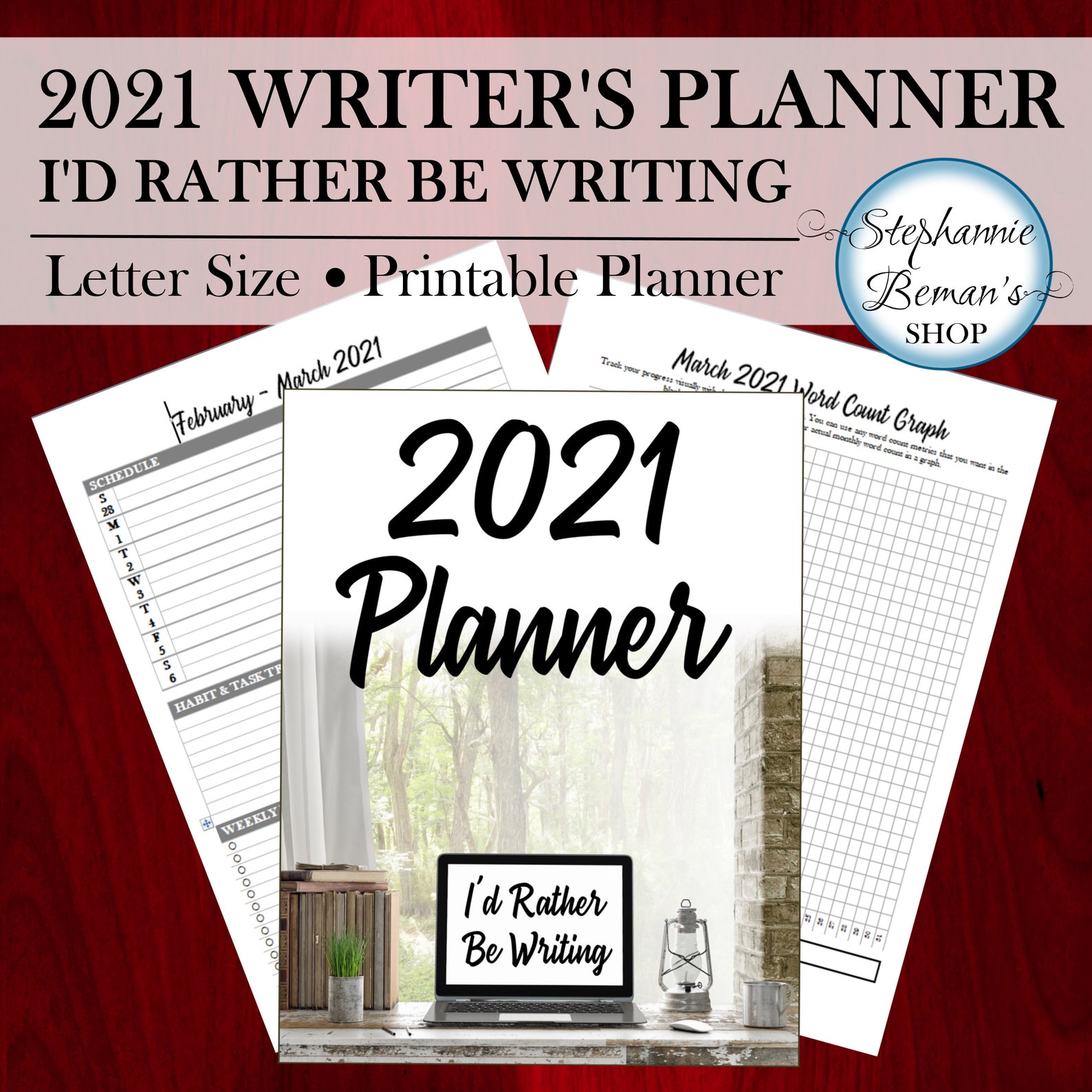 For those interested, the 2021 Writing Planner: I'd Rather Be Writing is available as a printable download at Etsy or as spiral bound printed planner at Lulu.
I've also been designing banners, book covers, and a logo work for a long time client. Now, I wish I had some pictures to show you but they are still in my queue of stuff that I need to print off and set up for pictures.
Once I have the pictures ready, I'll show you some of the items that will be entering my shop soon. I also plan on creating a post to share some of the design work I've been doing for my client if it is ok with her. I'm pretty sure it will be, but it never hurts to ask first. 😀
Wishing you all the very best!