Because I want to make my handmade shop work for our lifestyle, I've been diving into what it takes to run a successful handmade business while making it flexible enough for our life. Most of what I've learned isn't really anything new. There are many things that don't change from one business to another, but there are also things that aren't so universal.
But some of the things I've learned make me want to kill a few things. Like the person who created SEO, my Facebook Page and basically every social media platform every created for sucking me into procrastinating and doing absolutely nothing for my self-esteem, all the business "gurus" who spout off how to succeed but have little to no real time success that I can find or the business gurus that give advice that isn't feasible for my lifestyle but make me feel guilty by not doing what they tell me to, and the idiots who decided to screw up US sales tax for online businesses by making it harder than it really needs to be and throwing a monster wrench into my website plans. I swear they are all created to drive me insane.
Because of many of the above, I've had to rethink my goals and plans. Like I'm going to have to downsize some of my plans into more manageable steps before I can implement them. I'm going to have to drop some plans because, as things are at this moment, they won't work for me. I'm going to have to slow some plans down and do more research before spending time on them.
And because of the confusing sales tax laws that I don't have the time to figure out right now, I won't be able to open a fully operational shop on my website anytime soon. For the time being you will find :
All my vintage and handcrafted products on Etsy.
I wish it could be different, but at this time I don't have the money to upgrade my website. As with all my business, I try to stay out of debt by funding all purchases for my business from my business income. This means that other than custom orders, I won't buy anything new. Instead, I utilize my various craft stashes to create whimsical items I believe others would love as much as I do.
You may still order anything straight from me if you want, just send me a request via email me or my contact form.
Now on to a Show & Tell
I'm so thankful for everyone who has supported my new business, both handcrafted and book related. It's been a busy September with getting handcrafted items out to customers, adding more into my shop, making a few for my family, creating mock ups of ideas that may or may not be sold, and working on editing a short story for republishing.
There were a few horrible flops dealing with paper mache and jewelry that I will either need to rethink or give up altogether. The tags I had printed for my handcrafted products in August (I followed this DIY for them) ended up being too big for small things like bookmarks and too awkward to sew on crochet items, so I'm going to have to rethink how I want to change them for those items.
I stitched up a few small bags and fingerless gloves from crocheted granny squares that I uncovered while cleaning up my stashes. These were leftover from an afghan I made a few years back and I couldn't see throwing them out.
The gloves turned out to be women's small (I only know this because that is the size of gloves I wear.). The small bags turned out better then I hoped. I was going to put the ones I finished in my shop, but the girls stole them all. They put Pokemon cards and ear buds in the bags and wore the gloves to school. I'll have to wait until I have more scrap yarn before I make some more.
My biggest order to date was 6 crochet winter placemats in a beautiful variegated blue, 4 matching crochet washcloths, and an awesome custom ordered T-shirt with the hand embroidered phrase "I'd Rather Be Writing" and quill on it. I'm debating making one for me because I love everything about it!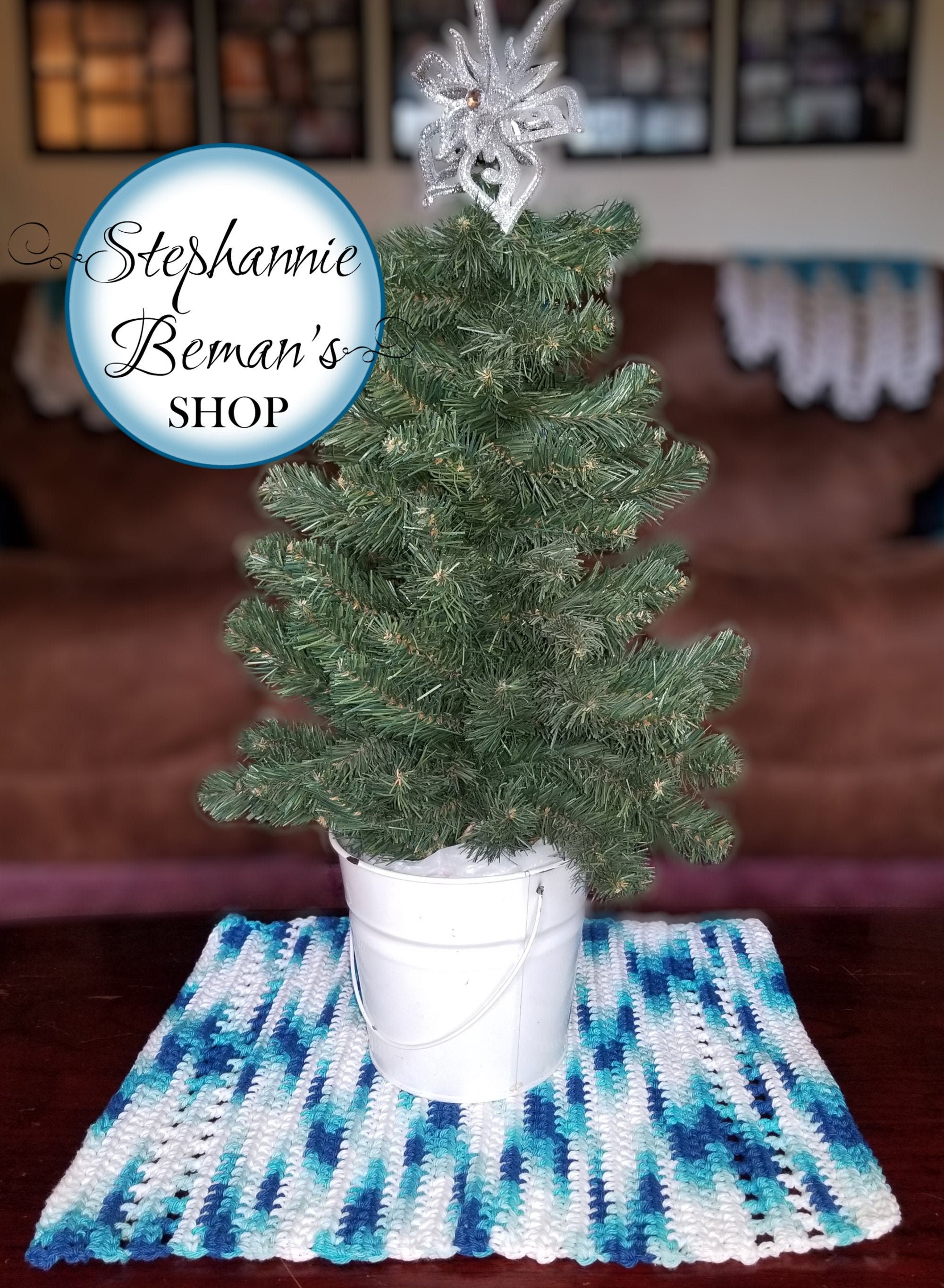 Then there was the 2 custom ordered linen placemats with custom embroidered image in the corner. Sorry about the splash of pink, sadly I can't share the design for a number of reasons. These were bought as a gift for someone else and I've been told that she absolutely loves them which made me happy to hear. 😀
Almost a year ago I was at Jo-Ann's and bought this mermaid pendant. Since then I've been trying to figure out what I want to do with it. I've created a few designs for it that I haven't been all that happy with. While going through my box of broken jewelry and jewelry makings looking for jump rings for my daughters necklace, I uncovered these set of "pearls" that needed a new clasp siting next to the pendant and it just clicked. I really liked the look and now I'm really tempted to make a mermaid jewelry collection sometime in the future. LOL
I ran across this tiny cross stitch birdhouse that I created several years ago when I was creating a new design for a wall hanging for my mom. I added fusible interfacing to the back and stitched the edges closed. This was suppose to be an experiment in using fusible interfacing on the back of my bookmarks. It worked so much better than the cloth that I'm backing all my bookmarks with interfacing. I also decided to add this bookmark to my shop.
I finished another Birthday Bookmark to add to the collection. I love these hand stitched bookmarks for several reasons. They are beautiful, durable, washable, and long lasting. I still have the first cross stitch I ever made. This bookmark still looks like new 20+ years later, so does the December Bookmark I made for myself is over 15+ years ago.
I have an idea for the bookmarks that I'm working on implementing in October with all my hand stitched bookmarks that I'm hoping will make them more appealing to book lovers like myself. 😀
Well, I better get going. I have a lot of projects I want to work on and some changes I need to do on this website before the day is done.
Wishing you all the very best,